Twitter now has more than 270 million users who actively log in and tweet and 23M don't ever visit the site, which some experts have concluded that they are bots.   Are all Twitter bots bad ?   There is still no word from Twitter concerning how many of these are spam bots or simply tweeps who use third party apps to post their updates.
Let's delve deeper by defining what really is a Twitter bot
-A program used to produce automated posts on the Twitter micro-blogging service…….or to automatically follow Twitter users. Source
-Tweeps that don't ever visit the micro-blogging site, using third party apps to send updates.
Are all Twitter bots bad ?
Not all Twitter bots are bad.   There are bots that are helpful to society…….especially bots that deliver news on climactic events, calamities and general news.   Parody accounts can make you laugh.   Motivational and other self-help tweets can be very beneficial as well !
On the other hand, uninvited spam bots seem to always show up.   These are accounts that tweet malicious or promotional links.
How can you identify Twitter Spam Bots ?
Feed140Team has discovered various spam bots followers of its own.   Yes, you heard it right.   Just like the one below.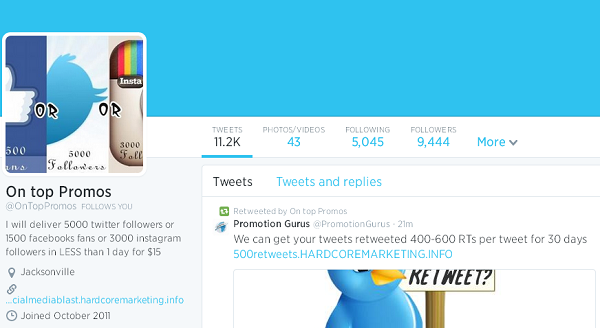 As you can see, it has 11.2K tweets, but those are automatic retweets promoting its fellow spam bots accounts.
Don't be surprised with the number of retweets of this account.   Surely many of its retweets came from its co-spam bots.   No wonder that accounts like these receive higher Klout scores.
For online marketers,  third party applications like Tweetdeck, Hootsuite, Buffer, Feed140 and other social media automation tools  are specially-created tools which can reach wider audiences any time of the day,  share valuable insights and auto-post blogs.  Yes, nothing wrong in using these apps, but make sure to add a human touch in your marketing mix.  Be SOCIAL !
Are these posts helpful ?   Leave your comments below !