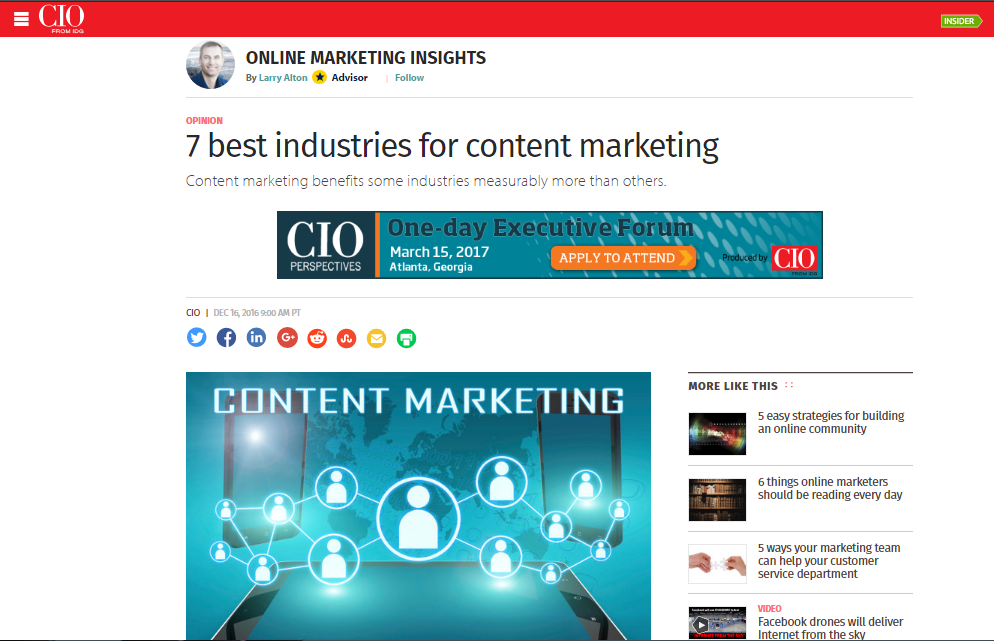 Content marketing is an incredibly useful marketing strategy, and because of its practicality, almost any business can reap the benefits. The premise is simple; use interesting, unique, in-demand and well-written content to naturally attract more people to your brand and website. Because customers of any business will need at least some information related to that business, there's demand for content everywhere. However, some industries measurably benefit from content marketing more than others.
Here are 7 industries that are well-suited for content marketing:
1. Medical and healthcare
It takes years of studying just to scratch the surface of modern medical knowledge, which is why medical organizations, healthcare organizations, and medical education institutions stand to benefit enormously from content marketing efforts. Plus, medical content tends to address specific patient problems (such as strange symptoms, injuries or ailments), and it's an industry that's always evolving with new scientific discoveries and new technologies.
2. Repairs and renovations
Handymen, repair shops, and other repair and renovation-oriented businesses exist to solve consumer problems. Though some of your content may give away the "secret sauce" of your industry, your increased popularity and reputation will be well worth the tradeoff. The potential here is enormous.
3. Other professional services
Almost any type of professional service, from legal counseling to marketing consulting, can benefit from content marketing. People need information when they seek professional services, and content exists to provide that information. You'll build trust easily and have an easier time winning over new clients as well.
4. Local businesses
Any type of local business can do well with a content marketing program. Why? Because local businesses don't have to worry about national-level competition, and can use their content to make their way to the "local 3-pack" that Google ranks for local queries. Using location-specific content serves a specific audience, and gives you a huge competitive advantage.
5. Ecommerce stores
Ecommerce stores operate exclusively online (usually), and can draw people in based on specific product searches. If you flesh out the content of each of your product pages, you'll be able to answer common consumer questions and complaints, and simultaneously optimize for some low competition, high search volume keywords.
6. Restaurants
Restaurants are an interesting addition to this list, since there's no clear "type" of content for them to produce, and most of them depend on physical locations, rather than online stores like ecommerce businesses. However, restaurants have practically unlimited potential when it comes to local SEO. They serve niche audiences, which gives them prime competitive opportunities to rank for local searches.
7. Real estate agents and services
The real estate industry also stands to benefit greatly from content marketing. Homeowners need to do lots of research before finalizing a decision, and most of them end up looking for hyper-specific qualities in their prospective homes. Online real estate agents and services can improve their listings with more detailed, well-written content, and keep users on their sites longer.
Original Source:
http://www.cio.com/article/3150959/marketing/7-best-industries-for-content-marketing.html
7 Industries That Are Well-suited for Content Marketing