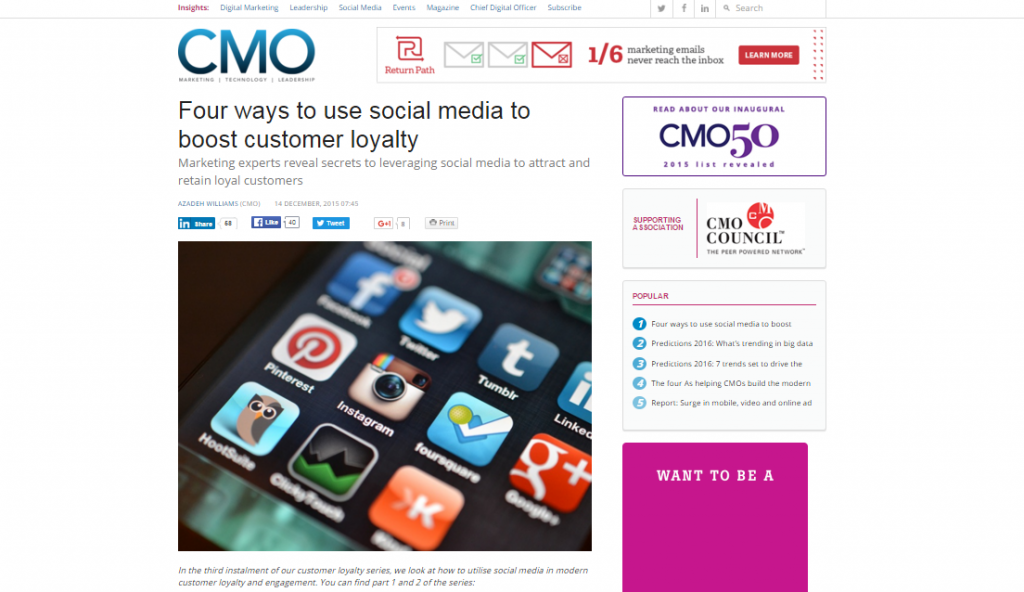 There's no doubt consumers have become increasingly demanding around how brands engage with them via social media platforms. And the pressure is on marketers to quickly adapt their communications and engagement strategies if they hope to transform social interactions into customer advocacy and loyalty.
Here are some ways to boost customer engagement through social media.
Using social as a customer service channel
Social media has revolutionised traditional forms of customer service interactions, and has become a customer service tool, often replacing traditional email or phone conversations. Appliances Online CEO, James Fleet, said the online retailer uses social to increase customer loyalty primarily by using it as a customer service channel.
Fleet said the company also uses customer feedback to better understand how it can best serve its customers through all touchpoints including social, online channels and traditional offline channels.
Create a community
Experts agree social media channels like Facebook and Instagram can be excellent avenues to build a tight-knit community around your brand to enhance customer loyalty and a feeling of brand 'belonging.'
According to vice-president of retail software solutions provider CitiXsys, Paula Da Silva, social networks and loyalty are intrinsically connected because they essentially turn into virtual customer networks.
"Social becomes a community where brand followers can interact, leave reviews, or share content – and it's vital that these virtual networks are nurtured and leveraged appropriately," she explained.
Invest in a dedicated social team
With social media becoming a centralised customer touchpoint, forward-thinking brands are investing more in internal teams focusing on social media management and providing consistency in customer interactions.
"Because of its simplicity and immediacy, social media has paved the way for businesses to create the two-way dialogue customers now demand," managing partner of customer engagement agency OgilvyOne, Michelle Holland, said. "Social media directly connects with customers in a very personal and timely way and helps build emotional bonds with the brand."
"The most important thing is to ensure your customers feel heard. That their concerns – or compliments – are acknowledged and you respond to them."
Keep it authentic, consistent and targeted
Investing in social media to attract and sustain customer loyalty does offer small businesses and startups the opportunity to quickly become disruptors if they leverage all channels effectively, often to the detriment of larger corporate competitors. But despite the fast-paced demands of social media engagement, experts highlight the importance of ensuring consistency with brand familiarity both offline and online.
"When customers find a supplier who consistently delivers, they stick with them," Beaumont Tiles' managing director, Bob Beaumont, said. "Often it is not, however, that wholesome loyalty of old where people were loyal for loyalty's sake, it is more of a self-centred loyalty where they keep going back because it is the way they will most likely achieve satisfaction. There is also the comfort factor where familiarity makes it easier and more comfortable to deal with a certain supplier."
According to Beaumont, online and offline social media is driving style, quality and lifestyle as high values.
Read from original source:
http://www.cmo.com.au/article/590018/four-ways-use-social-media-boost-customer-loyalty/
How to Build Customer Loyalty with Social Media