June 12, 2014 marked the start of the 20th FIFA World Cup with Brazil as host country for this famous event.   A total of 31 teams participated and 64 matches were played.   Team Germany was hailed as the winner.
The recently-concluded event made an enormous global impact on social media, communications, advertising and information technology.   Why……I said so?   See the proofs below.
"Advertising started to flow ahead of the event, creating early discussions in the social space," says Eric Johnson, President of Ignited, a digital advertising agency that buys digital ads for brands such as NBC Universal. 
"It's almost like there's a competition among advertisers to get the most famous athlete shot in the most beautiful way, doing the most amazing stuff or doing it in the most clever fashion, in and around soccer," Johnson says. "I think it brings more visibility to the sport.   I think the advertising effect is going to be meaningful."  CIO.com
There have been more tweets about the 2014 World Cup, before a ball has been kicked, than for the entire tournament in 2010.
CNN says it was the biggest social media event ever.
The tournament's first week, June 12 to 18, spurred 459 million posts, likes and comments on Facebook, according to the company.   Compare that to 185 million interactions about the Super Bowl, 120 million for the Sochi Winter Olympics and 25.4 million for the Academy Awards in March.  Then,  you realize the World Cup inspired more activity than the other three events combined.
Above all these world breaking statistics, there are  plenty of takeaways  that can be learned and applied in our marketing plans.   It's not just all about the splendors and the victory.  Let's observe and reflect upon the happenings of the event.
For Content Marketers
I love how the writer Ryan Young of KoMarketing explains the relevance of the world cup and for content marketers.   He nailed into five points.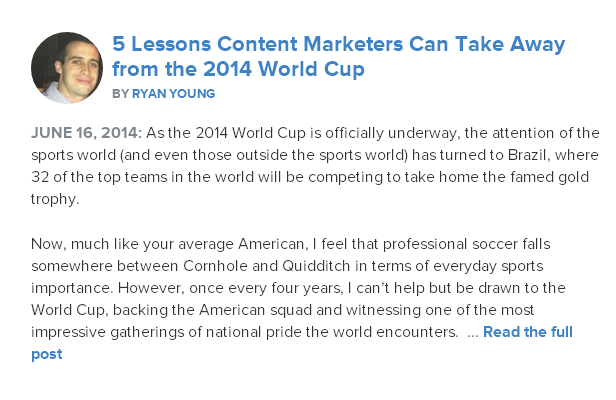 1. Make It through Qualifying
Relevance to content marketers:   Much like the grueling qualification process the 203 teams made for a bid to this year's World Cup, content marketers also must earn their place among audiences, communities, and even search engines.   When starting a content marketing program, it's important to focus on "small wins" to help get the program off the ground.
While broad, highly searched keywords might be the end goal, creating content around refined terms is a great way to gain the attention of search engines and appear on the first page of Google's SERPs.   Crafting and distributing content around these terms makes it likely that it will meet the direct needs of visitors.   As a result, they may be more compelled to share your content with peers or make frequent visits back to your site, while browsing for additional information.
2.   Be Well-Prepared
Relevance to content marketers:   Before diving into a content strategy, marketers need to make sure they are fully prepared for success.   A few things to keep in mind include:
Identifying the audience:   Content needs to be developed with a target reader in mind. This not only helps identify appropriate tone and style, but it also helps drive valuable business leads to the site.   Developing buyer personas is a critical piece of this process.   Personas allow you to uncover information beyond the basics, including a role in organization, third-party influences and more.
Keyword research:   Develop a list of core keywords that will be geared towards the content.   This allows content marketers to follow and focus on themes, while moving up in SERPs to increase organic visibility.
Create an editorial calendar:   The editorial calendar serves as the roadmap for the content strategy.   Putting information like title of post, focus keyword, author, and draft/delivery date into a document gives the content development team a nice organized vision of upcoming deliverables.
3. Know Your Competition
Relevance to content marketers:   Competitive analysis is a key piece of a successful content strategy.   Much like the World Cup teams familiarize themselves with their competitors' tendencies, content marketers should do the same by observing where competitive content is appearing in searches, as well as identifying their successes and failures.
This research allows marketers to more easily brainstorm marketing ideas, create better content and tweak their online strategies to ultimately improve upon their successes.
4. Block Out and Rise Above the Noise
Relevance to content marketers:   Content marketers need to adopt the tough-mindedness that World Cup-caliber soccer teams possess.   The web is filled with "noise" of its own.   Seemingly, every company today has a Blog, Facebook page, Twitter handle and more.   With all the content being produced on a daily basis, it's important to remain focused on the end goal and create content that will rise above the noise on the Internet.    Don't be just another horn in the sea of vuvuzelas!
5. Pride + Promotion
Relevance to content marketers:   Much like ravenous supporters of World Cup teams, content marketers need to believe in and be proud of their work.   A content strategy that is fueled by belief and enthusiasm will shine through to the audience.   Content marketers also need to keep promotion in mind, as an inspired piece of content can drive social buzz and expand to all parts of the globe……much like the World Cup does.
 For those who fail…
Failures are part of the game of life.    For those who fail, a lot of business lessons can be learned from from Brazil's Huge World Cup Loss.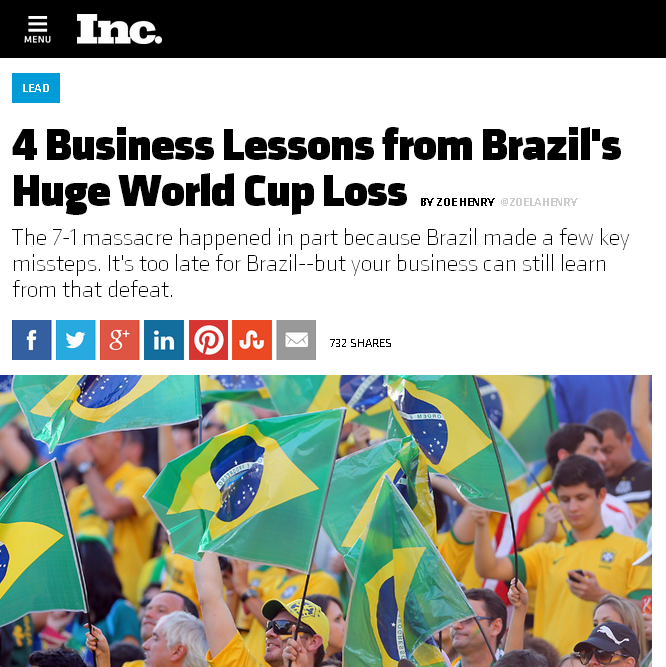 1. There's No "I" in Team
Many are attributing yesterday's loss to the absence of two of Brazil's star players, Neymar and Thiago Silva.   While it's always good to have individuals you can count on, ensure that your business shoulders the burden collectively.   Every employee should be talented in their own right and capable of functioning independently.   If they aren't, you could find yourself taking a massive hit when that one perfect worker–God forbid your CEO–is suddenly out of commission.
2. Don't Get Too Comfortable In Your Success
Brazil is by no means a minnow of the competitive soccer scene.   A pre-tournament favorite, the team hadn't lost a competitive home game since 1975.   Similarly, your business may be coming off of a good month, six months or even a year.   But don't let your guard down.   In a rapidly shifting economic climate, you cannot afford to be blindsided by your competition.
3. Don't Underestimate the Competition
Brazil had failed to account for the strength of the German offense, bolstered by a so-called "14-year plan."   Launched in 2002, after Germany's embarrassing performance in the 2000 European Championship, the Deutscher Fussbal Bund vowed to seek out talented German kids, then train them from the start for competitive soccer.   Talk about dedication to the sport.
Even if you're enjoying great success, look out for the hot new brands that can–and will–become your competition.   What might have happened……had Brazil done so?
4. Don't Upset the Regulators
In soccer and in business, there are times when you have to play rough.   Be careful not to go too far.    Brazil's Thiago Silva was suspended from the semi-final for receiving a second yellow card in the previous match–he inexplicably attempted to steal the ball from the Colombian goalie.   If you want to take this to the extreme, look at what happened with the real-life "Wolf of Wall Street," Jordan Belfort.   As Slate pointed out, for FBI agent Gregory Coleman, it was the "flashiness" and "blatantness" of Stratton Oakmont's behavior that led him to investigate the brokerage firm– and to ultimately convict Belfort for his numerous financial crimes.
Source: http://www.inc.com/zoe-henry/what-you-can-learn-from-brazils-world-cup-defeat.html
More lessons here:
GOAL!! 3 Winning Marketing Lessons From The WORLD CUP 2014
Sporting Inspiration Five Business Lessons From the World Cup