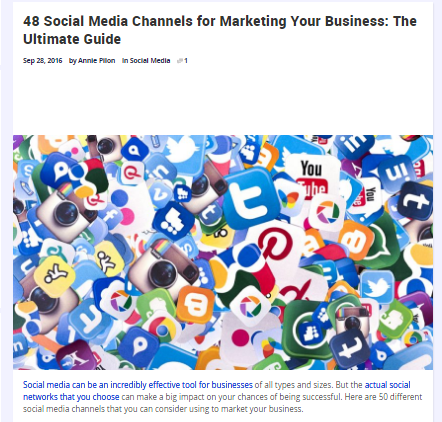 Choose from 48 of the best social media platforms that will help you connect with your target audience and successfully achieve your business goals:
Facebook
With more than a billion users worldwide and features ranging from targeted advertising to live broadcasting, Facebook is as close to a must-have social networking platform as there is for businesses.
Twitter
Twitter is a microblogging site that allows users to post short messages, photos, links and other types of media.
LinkedIn
The most popular business oriented social networking site, LinkedIn is great for entrepreneurs looking to boost their professional networks or reach out to B2B clients.
Instagram
A visually oriented social platform, Instagram is based mainly around mobile apps and lets you post photos and short videos, along with "stories" that disappear at the end of each day.
Google+
Google's social media platform, Google+ lets you share content, photos and more. And you can connect with others by adding them to your circles, which you can organize any way you choose.
Periscope
For those businesses that want to use live broadcasting to communicate with customers, Periscope is a mobile app that lets you connect with people and stream live video content.
Pinterest
Pinterest allows users to create different boards where they can save photos and content from a variety of sources. So businesses can use it to post products, blog posts and a variety of other content.
Tumblr
Tumblr is sort of a mix between a social media site and blogging platform. You can post photos, videos, text posts and even re-post or like content from other users.
Snapchat
Known mainly for being popular with young users, Snapchat is starting to catch on with a wider audience now. You can share photos, short videos or text messages with other users. And that content is only viewable for 24 hours.
Flickr
A social sharing site owned by Yahoo, Flickr lets you upload photos and videos, sort them into albums and even interact with other users in groups or comments.
Vine
A video sharing app for mobile users, Vine lets you upload and share quick, looping videos on the app and even share them on other social platforms like Twitter.
YouTube
If you create video content for your business, then you probably already use YouTube. You can upload your own videos, share them on other sites, create playlists and even interact with other users on the platform.
Vimeo
Vimeo is not as popular as YouTube when it comes to video platforms. But you can still use it to upload videos. And there are also some community features aimed at serious video creators.
Skype
The popular video and audio chat platform also lets you add connections and send instant messages to connections on Skype mobile or desktop versions.
MySpace
MySpace certainly isn't the popular social networking platform it once was. But there are still some community features mainly aimed at entertainment enthusiasts. So musicians and similar entrepreneurs could still find some benefits from using it.
Ning
Ning is a platform for online communities that lets you share photos, post in groups and even publish blog posts.
XING
XING is a platform made specifically for business networking. You can connect with other professionals and companies, read industry news and even discover relevant events.
SlideShare
A LinkedIn platform, SlideShare lets you create presentations, infographics, documents and similar materials. You can also use it to find presentations on a variety of different topics related to your industry.
StumbleUpon
StumbleUpon is a discovery engine that lets you share and discover new content in a variety of categories. You can use it to share photos, videos, blog posts and more, as well as find relevant content to share with your audience.
Delicious
Known as a social bookmarking service, Delicious can serve as another place to share and save content from all over the web.
Digg
Digg is another social sharing site that focuses mainly on news stories. So if your business creates articles or news content, it could be a worthwhile social platform.
Foursquare
For local businesses, Foursquare can help local customers find and check in at your location. You can even offer specials or promotions to potential customers.
Path
Path is a social networking and chat app that lets you share "moments," which can include everything from local check-ins to music.
Reddit
Reddit features a news aggregator along with some social features like discussion boards and the ability to submit and rate various content.
Quora
The popular question and answer site, Quora allows you to interact with other users by submitting questions and helping other users if they have questions that relate to your industry or expertise.
Scribd
Scribd is an open publishing platform that authors can use to share ebooks, audio books, comics and other documents with interested audiences.
Yelp
Known mainly for reviews of local businesses, Yelp allows you to create a profile for your business and interact with other users through comments and more.
Tout
Tout is a mobile video publishing platform. It's perfect for businesses that share news, sports and entertainment related content with online and mobile audiences.
Lefora
Lefora is an online platform for discussion boards in various interest groups. You can create a profile and join various forums to discuss and share content related to your industry.
Ryze
Ryze is a site made specifically for business users. You can apply for membership and then use the platform to connect with other business owners and professionals in your industry.
Xanga
Xanga may not be at its peak popularity anymore. But the platform still hosts blogs, photography sites and social profiles for a variety of users.
Howcast
For businesses that want to share tutorials or instructional content, Howcast is an online platform that lets you share short videos or text content that shows users how to do various tasks.
Meetup
Meetup is a site that lets people create and join groups to share events and meetings in a given area. You can use the site to gain interest in special events or start groups.
DeviantArt
For artists, photographers, illustrators and other creative entrepreneurs, DeviantArt provides an online gallery and community for artists to share work and connect with others.
Buzznet
Buzznet is a social network where you can share photos, video, text posts and more. It can be especially relevant for entertainment centered businesses.
Last.fm
Last.fm is a music streaming service that also lets users create profiles and interact with other listeners. Musicians can use the site to interact with listeners and even share music and events.
SoundCloud
Another audio distribution platform, SoundCloud can be an especially useful channel for musicians and podcasters.
CafeMom
For businesses that offer products or services aimed at moms, CafeMom is an online platform for moms to connect, start groups and share advice.
Ravelry
Ravelry is a niche site aimed specifically at knitters and crocheters. It could be a useful social channel for yarn sellers and other handmade business owners that want to connect with fiber artists.
Goodreads
For authors and book enthusiasts, Goodreads is a site that lets users discover books, leave reviews and interact with other users.
Behance
A portfolio site for designers and creative entrepreneurs, Behance lets you showcase your visual work and even discover other artists and designers through their portfolios.
WhatsApp
WhatsApp is a mobile messaging platform that lets users add friends and create groups to chat with via text, voice or even video.
WeChat
Another mobile chat app, WeChat offers apps for iPhone, Android and even a web version.
Viber
Viber lets you send texts, make calls and even share photos with other users. It also offers a feature called public chats so that brands and celebs can share messages with wider audiences.
Bloglovin'
For bloggers, Bloglovin' is a platform that lets you create a profile for yourself and your blog (or blogs) and then connect and follow other users to discover content and get your blog found by relevant readers.
Blogher
Blogher is a blog network aimed at female bloggers. You can publish your content, connect with other bloggers and even attend conferences and networking events.
Busker
Busker is a live video chat app that lets you broadcast to your network to share tips or even demonstrate a product.
BizSugar
BizSugar is a forum for sharing business related content. You can post articles, comment on posts and interact with other users. BizSugar is a sister site to Small Business Trends.
Original Source:
https://smallbiztrends.com/2016/09/social-media-channels-marketing.html
Find Your Niche: The Best Social Media Platforms for Your Business