Another wave of awesome women are on my follower list.   Let's learn what they're tweeting.   Why do they have thousands of followers ? Let's dig deeper and reveal their secrets 🙂
I just love browsing through her timeline.    It's a variation of tweets from business tips to social media suggestions and inspiring quotes + added personal text-based tweets.



Pro Tip:  Use variations of tweets and see what drives the best engagements.
Related Post: Grow Your Twitter Followers + 99 Tweet Ideas
If you're looking for someone to follow for a great read, Meredith would be the best.   Her tweets are all about the latest marketing ideas in the blogosphere.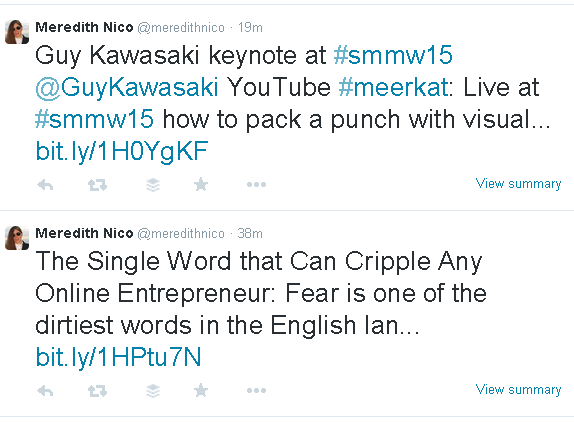 Her tweets are packed with success and motivational quotes, which you'll love.



Pro Tip:  Add quotes to your tweet idea.  It will definitely drive more re-tweets. 
Related Posts: Auto Tweet Quotes With Feed140 #contentmarketing
                          How to Auto Post Twitter Using Feed140