Despite many criticisms that have been leveled at social media and the way it has effected this generation, there are still things for which we can be thankful.   We can't eliminate what's considered mainstream today.   What we can do is to go beyond the negatives……..purposefully use social media and turn negative aspects into positive ones.   Social media is not all about selfies, making fun of each other, criticizing or bully the other party.
But what exactly are we getting from social media ?   The dominance of social media has created a new breed of marketers, a new place where plenty of opportunities abound.
Individuals can earn a good living from social media.   Business sectors use it for marketing their products and services.    It is not for private sectors only, but government sectors can also benefit from the use of social media.
Messages shared across social media channels can easily spread like wildfire.
Below are two articles which deal with how local agencies use it for a specific purpose.
Small business as well can benefit from social media.   Social media was not designed just for well-known name brands.   Entrepreneur.com clearly states that smaller-size companies can leverage the new social trends in order to drive increased revenue.   Consider the 5 strategies they enumerate.     Read further…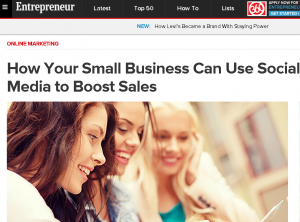 Of course, students and the unemployed can also utilize social media to get hired or to learn and become social media experts.    Read some useful articles below.
TIP: "Turn your social media hours into something rewarding."