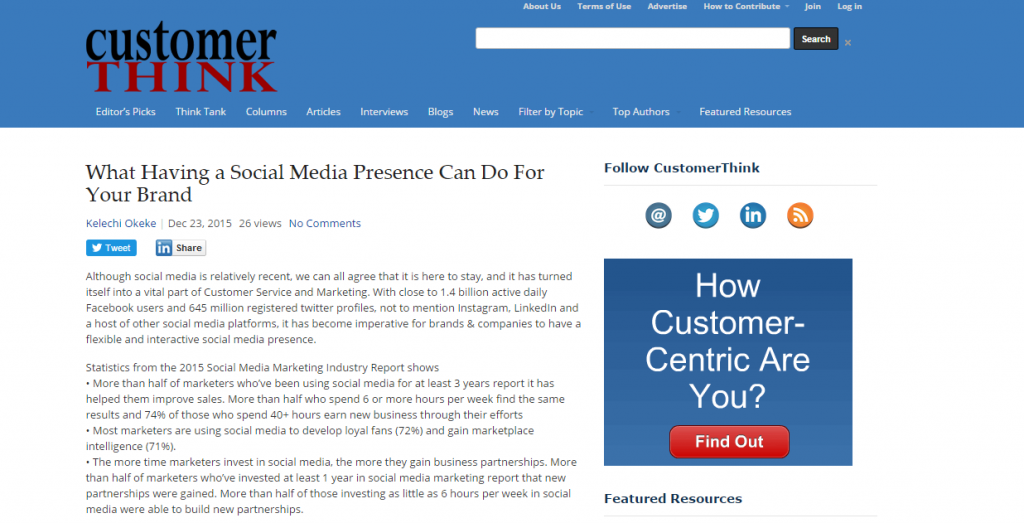 Although social media is relatively recent, we can all agree that it is here to stay, and it has turned itself into a vital part of Customer Service and Marketing. With close to 1.4 billion active daily Facebook users and 645 million registered twitter profiles, not to mention Instagram, LinkedIn and a host of other social media platforms, it has become imperative for brands & companies to have a flexible and interactive social media presence.
Let's take a look at what your business stands to gain just by being active on social media.
1. Increased Brand Exposure/Recognition
A strong Social media presence is an efficient way to build your brand/company's reputation, just by being active on a social media platform, users will come across your brands activities via retweets, mentions, and shares by their friends on the platform, over time they'd recognize your brand and the services you offer and would more like do business with you in future when they require services you offer
2. You Can Amass A Community Of Loyal Customers/Fans/Prospects
We're in the age of online shopping, bank transactions and business meetings, studies have shown that Customers are more likely to do transactions with businesses with active social media profiles, than those without. By constantly engaging & interacting with your followers/fans, you create an emotional connection (rapport) with them, this guarantees a good reputation for your brand and thus makes it easier for them to do transactions with you.
3. Your Brand Can Market a To Wider Audience With Minimum Costs
With hundreds of millions of people whom you can view promoted advertisements on Facebook, Twitter and all the lesser known social media platforms, (for less than $10) you can see much reach your brand can get with a few carefully crafted words or picture. Imagine how much it cost to get the same amount of audience on traditional media.
4. Increased Search Engine Rankings
Anyone who has runs a website knows how important it is for your site to appear in the first page of dominant search engines like Google, Yahoo or Ask.com, according to the 2014 Social Media Marketing Industry Report "Improved search engine rankings were most prevalent among those who've been using social media for one year or longer, with 58%+ reporting a rise". Improved search engine ranking means more visitors to your site, which increases your brand exposure and translates to a great number of prospects for your business.
5. Social Media Is A Great Medium To Get Direct Feedback From Customers
Social media creates a direct link to your brand for anybody following your profile, put a team together and teach them how to use social media, note down feedback from all your social media accounts. Record suggestions separately from complaints. Complaints are your priority, hence set up a policy to deal with them swiftly and efficiently, while you use suggestions to generate ideas to improve your product or service.

Original Source:
http://customerthink.com/what-having-a-social-media-presence-can-do-for-your-brand/
Why Building Social Media Presence Is Important For Your Brand