Use Twitter First to Drive Awareness, Second to Make a Sale
According to a recent Social Media Marketing University survey of more than 1,000 marketing professionals in the U.S., brands are mostly using Twitter to spread brand awareness. Surprisingly, driving sales is not nearly as important to marketers. (Source)

21 Steps to Create an Awesome LinkedIn Profile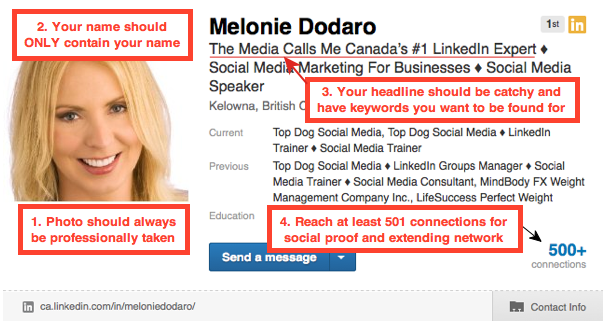 LinkedIn has redefined the online version of a resume and having a well organized LinkedIn profile is now essential. These were brought to our attention   Here are 21 steps to create an awesome LinkedIn profile by @Melonie Dodaro who is described as "Canada's #1 LinkedIn Expert" (and definitely knows her stuff about LinkedIn).
Your name should only contain your name
Your headline should be catchy and have keywords and phrases that you would want to turn up in Google search results
Photo should be taken by a professional
Social proof is important online, so make sure you have at least 500 connections. This leads to credibility and authority on the web.
Add all relevant contact information
Customize your website names to attract your target market
Customize your profile URL
Update your status daily that adds value to your network. This could mean your latest blog post, presentation or some content you found that is worth sharing.
Use keywords and phrases that you and your business would like to be found for online
Write in the first person
Speak directly to to your target market so they can self-identify
Add a video or slideshow. Many people prefer to watch rather than read
Tell people to click to play video as it is not that obvious
Keyword load your skills and expertise section
Use the "Projects" section to highlight free reports, downloads or to showcase the products and services you are promoting
Again, keyword load your current and past work history
Use keywords and phrases when filling out your "Experience" section
Make sure you have at least 10 recommendations
Add any volunteer experience you may have including causes you support
Add any significant media awards, recognition and achievements to enhance credibility in the "Honors & Awards" section
Join 50 groups
Social Media Marketing Tips by Unbounce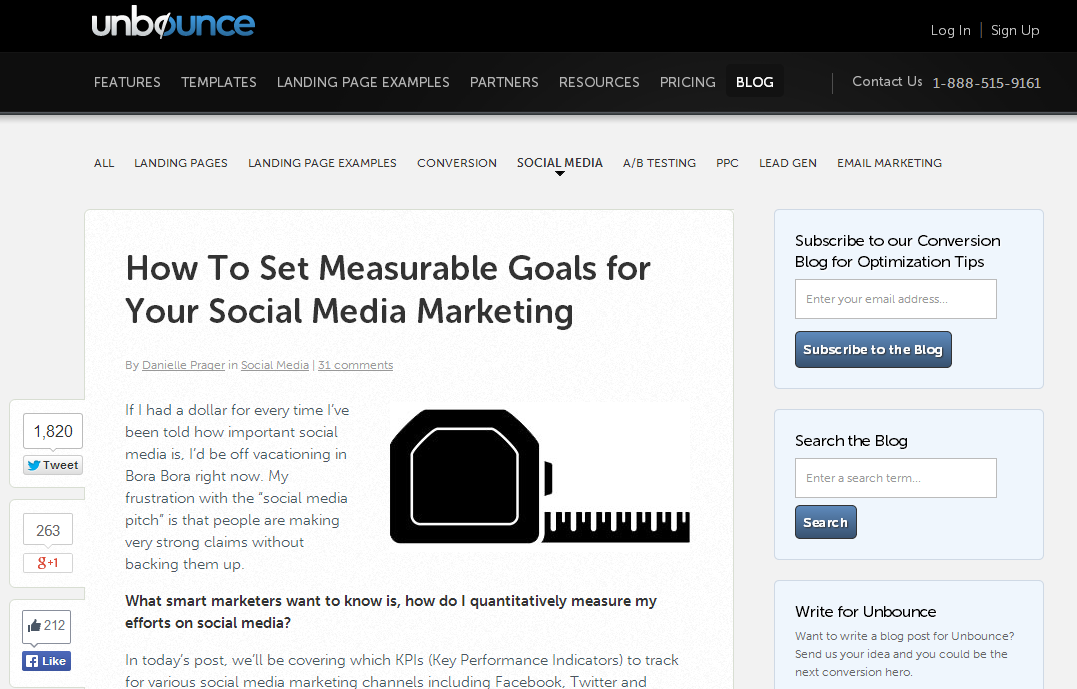 Unbounce Covers which KPIs (Key Performance Indicators) to track for various social media marketing channels including Facebook, Twitter and Google+. Also included are some handy tools that can help make the process both easy and effective. If you're just starting to crack down on social analytics, then this post is for you.
Twitter
Twitter currently boasts more than 550 million active users. Of these half a billion users, 67% of them are more likely to buy from brands they follow than from brands they do not. Twitter has the ability to drive traffic to your site and drive conversions.
The larger your reach, the more traffic you can drive to your site
It's all about experimenting and testing which frequency works best for your followers.
While a huge following is great, if people don't engage with your brand there's not much to brag about.
Few tips and tricks that can help promote retweeting:
Include retweetable words (ex: "please," "retweet," "10," "You")
Don't be afraid to ask people to "please retweet", it increases the chance of retweeting by 160%!
Tweet interesting links (56.69% of all retweets contain a link!)
Limit your tweets to 80-110 characters. This makes it easier for others to retweet your content and leaves room for them to customize.
Tweet during times when the majority of your followers are online. You can find this out using a tool like Followerwonk.
Facebook
Facebook provides their users with a sophisticated set of analytics that can be found through Facebook Insights
More followers means more reach.
In a nutshell, if you want your company updates to show up in your followers' newsfeeds, your followers need to be liking, commenting on, and sharing your posts.
that the more you increase your reach, the more opportunity you have to fill the top of the funnel and impact the bottom line
Emoticons increase comments by 33%
A post that includes a question increases comments by 100%
A post that includes a photo gets 39% more interaction
Posts that ask followers to "like" or "share" increase the interaction rate by 48%
Google+
Plus mentions are a great way to keep track of who is talking about your brand and what people have to say about it.
Keeping a close eye on the interaction each of your posts spurs can give you insight into what kind of content excites your readers. The type of content that promotes engagement on Facebook may not have the same effect on your Google+ followers.
Experimenting with the type of content you post and using engagement metrics as a form of feedback is a foolproof approach to improving your strategy.