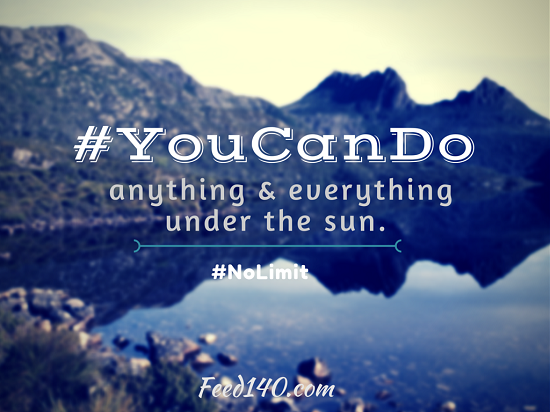 As I was looking through all the faved tweets I'd made this week, it seems that about 70% of them were uplifting words.
Let's get into our #youcando faved tweets of the week.
Are you taking time to dream big ?   #inspiration #smallbiz #mompreneurs #homebiz http://t.co/GGaRToFdcD #podcast

— Dawn Marrs (@dawnmarrs)   January 13, 2015
Everything you dream will come into reality if you'll just step out and take a leap of faith.    Beautiful isn't it ?    Listening in to this podcast, with these two high-spirited women, was inspiring.    In their voices, I can feel and hear the genuine happiness and joy in their hearts, that finally…..they get the desires of their hearts.
Don't ever let anyone turn your sky into a ceiling.   #youcando #motivation

— Kim Garst ツ (@kimgarst)   January 16, 2015
Another tweet that captured my heart this week is from one of the top influencers in social media, Kim Garst.    She proved that she's not only a social media geek that we can learn from but also a motivator that can push us towards reaching our goals.    No one can set a limit to what you're planning and dreaming.    Keep this in mind…..there are #nolimits.
Be not afraid of growing slowly.    Be only afraid of standing still.   -Chinese Proverb

— Andrew Morgan (@Goals_Coach) December 20, 2014
Success never comes easy.    Remember the story of a man and a butterfly ?   Life can bring so many obstacles along the way that make success so hard to reach.    It kills our enthusiasm and our drive, but remember this, going through life with no obstacles would cripple us.
There you go… I do hope that you feel motivated now.